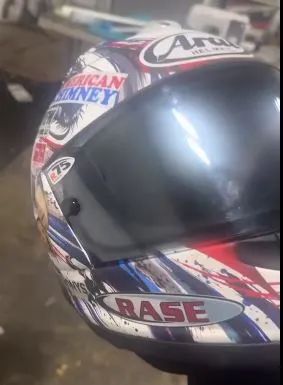 News: Morgan Monroe Is Back
May 4, 2023
Michael Marsh worked as a sponsor for Morgan Monroe in 2015 - 2017 through his company RASE. Unfortunately Morgan was severely injured in a racing incident as she was rising like a star in the AFT Singles series. She has been out of racing, going to school, recovering from her injuries, and forming with her family a non-profit to assist folks with rehabilitation.
There were a number of incidents that led to the formation of RASE Safety Assistance. Michael's brush with death and TBI (broken helmet in 2005), the loss of Charlotte Kainz, and the severe injuries to Parker Norris and Morgan Monroe. CK, Parker and Morgan were all RASE supported riders.
It has been such a blessing from God to watch the recoveries of Parker and Morgan. These two very special young people have brought light to a world that is sometimes dark. And they have given inspiration to thousands in the world that recovery is possible.
In 2022, two RASE Safety Assistance Safety Grant recipients were on the top of the box in the national championship, with Jaycee Jones on the top and Zaria Martens close by. As a father with two daughters, neither of whom chose the path towards racing, these principled, respectful and gifted young ladies made me so very proud.
So earlier this year I was elated when I saw that Morgan was going to participate in the Build.Train.Race. program sponsored by Royal Enfield. I think I'm still horse from yelling at fanschoice.tv for Morgan and Zaria in the first race of 2023.
The opportunity arose to help Morgan out for the program. Unfortunately the charity has paid out all available funds for 2023 (...but we are still fundraising...see below to help out). So I decided to personally contribute. The result will be on display at Ventura in the next race, where hopefully we'll see Morgan on top of the podium once again (see below).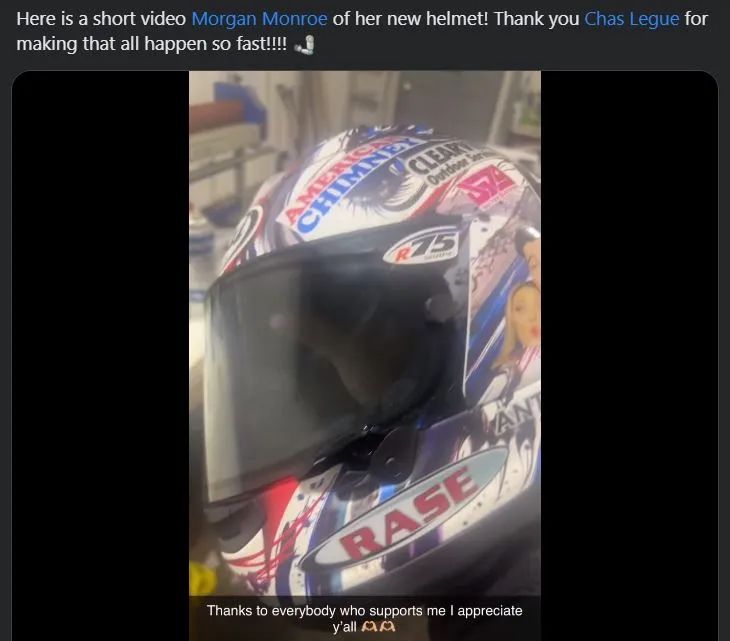 The first picture above is Morgan when she won the first Build.Train.Race. event of 2023. That smile and joy makes me so happy. To know the road that she has walked, through injury and recovery and now back on to the track and competing at a national level.
I pulled the helmet photo above off Morgan's Facebook posted video. As always, she was amazing to thank all of the helmet sponsor participants. Brought tears to my eyes to see the RASE logo back with such an amazing lady, amazing family.
In a world that is filled with darkness and dispute, it reaffirms why I've invested well into 6 figures in helping flat track racers out in the name of safety. These are our country's truly quality young people. We all need to help them get the best safety equipment possible as they explore the paths to their individual racing dreams.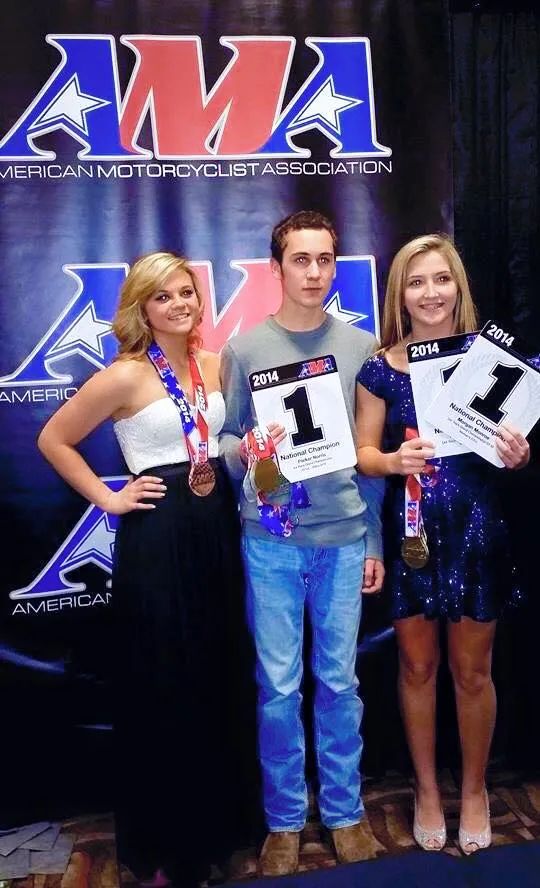 Morgan Nottingham, Parker Norris and Morgan Monroe 2014 AMA Awards
*all were sponsored by RASE
We'd love to have you join our team and support RASEers like Morgan Monroe. If you are interested in making a tax deductible donation, please visit https://www.rasesafetyassistance.org for more information. You can donate directly through the site, or you can send a check to our Billings, MT office. Direct payments are preferred because we can avoid the on line processing fees.
There is no excuse for allowing our young people out on the track, practicing or racing, without the very best in safety equipment. We appreciate each and every one that helps us achieve success on our mission to keep our young flat tracker athletes safe.
The small print:
Charitable donations that are deemed tax deductible are specific to each individual circumstance and situation. Please consult your tax professional.
Photo Credits from Morgan's Facebook page